THRILLER

Since 2002
email:
davefish AT protonmail DOTCOM
* In Memory Of Brian Clemens, 1931-2015 *
---
NEW!!! 700 page book all about THRILLER!
If you thought you knew everything there is to know about Thriller... then think again!
TV historian Martin Marshall has penned the ultimate guide to Thriller in a fantastic 720 page paperback volume called A THRILLER IN EVERY CORNER. This weighty tome contains amazing detail about the making of the show as well as interviews with many of those involved with it. No stone is left unturned, from the development of the series to its UK and US airings, through the US movie versions and repeats throughout the world and eventual dvd releases. Brim full of anecdotes and recollections from many of the actors, directors and other people involved with the show, it also boasts fascinating new info about rehearsals, recording dates and locations as well as other behind-the-scenes information taken from the original production documents. It is also an excellent insight into the TV industry at the time, with much info about how it all worked back in that golden age. Overall, really entertaining reading not only for Thriller fans but for anyone who loves 70s British television.
If you love Thriller, you simply must have this! It is as thick as a telephone book with 28 chapters worth of fascinating detail. It can be ordered directly from Lulu Books. Mine was delivered in about 10 days. Order the book from anywhere in the world by clicking here. Price is 28 pounds (about $US38).
---
Visit my other TV website for Armchair Thriller
---
One of the great "forgotten" British television series is the suspense anthology Thriller, created and written by the accomplished screenwriter Brian Clemens. Made by ATV between 1973 and 1976, it regularly enthralled Saturday night audiences with its eclectic mix of mystery, suspense and the supernatural.
| | |
| --- | --- |
| | At the turn of the 1970's, Clemens was one of the most prolific tv writers in England. Having cut his teeth scripting almost forty low budget cinema releases for the Danziger Brothers in the late 50's and early 60's, Clemens soon moved into the television arena where he quickly found himself in regular demand by ITV. His unique experience with the film genre led to him being contracted to work on a new ABC project called The Avengers, a series which he eventually crafted into his own with a mixture of style, wit, action and intrigue. Other writing projects followed, including popular series such as The Baron and Danger Man, and by 1972 Clemens had already authored some 300 television scripts in a variety of different genres. |
One genre of which Clemens was especially fond was the thriller, harbouring a particular fondness for the works of Alfred Hitchcock, the so-called "Master Of Suspense". In 1972, bewildered at the lack of such programmes on British television, Clemens approached Michael Grade with an idea for just such a series. It would be called simply "Thriller", and consist of a string of suspense plays in the Hitchcockian mode, with an emphasis on generating pure psychological terror. Grade took the premise to his uncle Lew Grade who headed the mighty ATV organisation, and with a $100,000 advance per episode provided by the American ABC network the series was soon in production; the first episode to go before the cameras was "The Colour Of Blood".
Perhaps the most memorable aspect of Thriller was its striking and somewhat unsettling opening titles. Framed in a blood red border, a series of location stills distorted as though seen through a peephole were presented to a backdrop of dissonant woodwind and harpsichord that was the Thriller "theme". The title sequence - created by Clemens and producer John Sichel - captured perfectly the quirky, creepy nature of the programme and set the mood for what was to follow. Laurie Johnson (Clemens' colleague from The Avengers) was also responsible for providing the incidental music for each episode; a significant step forward at a time when most tv drama still used stock "library" music. Johnson used his considerable talents to play up the more sinister and disturbing elements of the episodes, turning in an extraordinary set of scores that were unlike anything heard before or since.
As far as Thriller's overall style was concerned, Clemens borrowed heavily from Hitchcock and the notion that that which is left unseen and unsaid can be far more disturbing than that which is not. From the start, Thriller was pure psychological horror and conjured up its demons in the mind of the viewer. In this it was aided by its curiously unconventional length of 65 minutes (set by the American buyers), which allowed extra scope for long, deliberating scenes. There was violence in Thriller, but somehow it was nearly always conveyed rather than actually seen. The fact that it was rarely seen is in itself astonishing, as the Thriller universe was populated by what is probably the most bizarre and comprehensive assortment of psychopaths, serial killers, foreign agents and occult worshippers ever gathered together on the small screen.
This cast of malcontents were made all the more disturbing by the fact that they nearly always appeared in the most cosy of settings. For instance, the devil-worshipping fanatics of "A Place To Die" are also the charming old world residents of a picturesque country village. The insane Professor Carnaby of "A Killer In Every Corner" conducts his immoral and murderous research on students in the comfort of his stately home. The merciless foreign agents of "Good Salary - Prospects - Free Coffin" operate out of an employment agency in an ordinary city office. Everywhere you turned in the world of Thriller, it seemed, you were face to face with someone who wanted to either kill you, blackmail you or strip of your worldly fortunes (and frequently your soul to boot!)
The use of the American concept of a "teaser" at the very start of each episode was also an important element in Thriller's success. A teaser is a brief, self-contained scene designed to pack as much punch into a short amount of time as possible, before the opening titles begin. The teasers in Thriller were frequently terrifying and disturbing and guaranteed to rope viewers in for the evening. In "The Eyes Have It", a clinical instructor is murdered in full view of a young female student who merely gazes on in admiration as he struggles vainly only a few feet away. In "Ring Once For Death", an emaciated old woman screams in terror as her impeccably dressed butler moves in for the kill. In "Dial A Deadly Number", a man combing a dimly lit house at night opens a bedroom door to a sacrificial dagger before tumbling dead to the bottom of a flight of stairs. Scenes such as these, while apparently making no sense in isolation, engaged the viewer's curiosity and urged them to stick around till the finish to find out what it was all about.
Clemens was deeply involved in the production of the series, not only penning most of the episodes himself but also writing all of the remaining story premises. These would then be given to close friends such as Terrence Feely and Dennis Spooner to flesh out, before being subject to a final edit by Clemens, who shaped the style and content of the show in the same way he had with The Avengers. His incredibly fertile imagination and knack for devising red-herrings and unexpected twists gave the scripts a compelling vividness and originality, as each week ever more outlandish and memorable plots unfolded. His experience with film also became invaluable in post-production, where he would supervise editing to ensure that the episodes were cut for maximum tension.
Clemens was also involved in casting, and over the years Thriller boasted an unrivalled galaxy of star talent, with appearances from many of the most well-known names and faces in British television and theatre at that time, including: Robert Powell, Hayley Mills, Jenny Agutter, Jeremy Brett, Richard Vernon, John Le Mesurier, Michael Jayston, Helen Mirren, John Nolan, Patrick Troughton, Judy Geeson, Ian Hendry, Diana Dors, Patrick Magee, Tom Conti, Julian Glover, Judy Geeson, Charles Gray, Denholm Elliot, Susan Hampshire, Brian Blessed, Francesca Annis, Gerald Harper, Patrick Allen, Ian Bannen, Peter Jeffries, Freddie Jones and Peter Vaughan.
This cream of British talent was complimented by the regular inclusion of American guest stars such as Gary Collins, Bradford Dillman and Donna Mills. This practise was in fact enforced by the ABC buyers in the US, who would cable a list of suitable actors from which the British producers could choose. Happily however, ABC's influence began and ended here and ATV was left largely to itself to produce the finished programmes. Ultimately the partnership of British and American actors, with their differing but complimentary acting styles, produced a truly unique and entertaining series.
With a regular Saturday night audience of around six million, Thriller was sure to be renewed time and time again, and ultimately six series of 43 episodes would be commissioned between 1973 and 1976. Regular features in the TV Times became the norm, and episodes were even novelised in two paperback books. For three years, lovers of quality suspense drama revelled in the return of Thriller, before the series finally came to an end with Clemens departure to work on Watcher In The Woods and other feature film scripts.
In later years, Thriller would receive a second round of exposure in a series of anonymous "tv movies" created by Lew Grade's other big company ITC Entertainment. Deprived of its memorable "peephole" title sequences and saddled with silly American-made introductory scenes, the series lost much of its identity but - in a testament to its sheer quality - was still able to snare a new generation of late night viewers, many of whom are still oblivious to the true origins of the programme.
It has been my intention with this website to provide information about each and every episode so that those who have enjoyed the show over the years may finally make sense of their memories. Apart from story images and a spoiler-less plot summary of each instalment, I've also included a summary of each pre-credit "teaser" sequence for those who have only ever seen ITC's "movie" editions, and my views on each story. There is also much confusion regarding the various formats that the show exists in and I have tried to cut through all the misconceptions and make sense of it all.
Perhaps Mrs Oxhey, the evil landlady in charge of the Victorian boarding house in "Someone At The Top Of The Stairs" put it best:
"Marvellous!"
The individual story synopses can be accessed via the Episode Index link at the bottom of each page. If you have any questions, memories or information, please don't hesitate to email me at: davefish AT protonmail DOTCOM.
With special thanks to:
Franz Clinton, Martin Marshall, Alan Mead, Ian Kerr, Mark Faulkner, Jon Scott, Gerdi Knockaert, Werner Schmitz, Alan Briscoe, Mark McMillan, Melissa Milligan
---
Deleted Scenes * Interviews * Discussion Board * Mark McMillan's TVM Music Page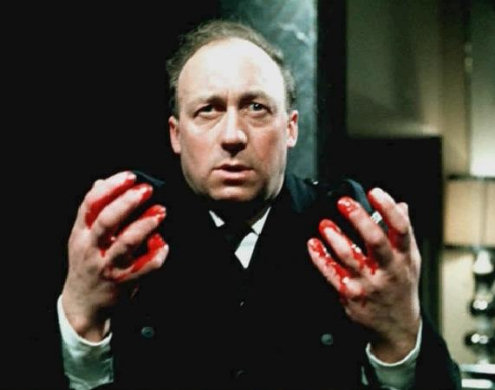 This web site is purely a fan site intended to promote awareness of the series and no infringement of copyright is intended.
If you've enjoyed this site, visit my other TV website for Armchair Thriller